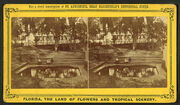 Resort to the south of Cowford known as the "Saratoga of the South" or "The Parlor City" boasting numerous hotels and spas.
White Sulphur Springs was established in 1854, with a wharf, a store, and several houses clustered around a public square. During the War of Northern Agression, Union troops frequently skirmished with Confederate forces in the vicinity, and finally occupied the city in 1864. White Sulphur Springs became the seat of Clay County government in 1871.
White Sulphur Springs is now a big draw to Northern visitors who travel by steamboat down the St. Johns to take the waters for their health and for the hotels which are said to rival the finest to be found in northern resorts.
The surrounding area is largely swamp inhabited not only by enormous alligators and poisonous reptiles but also by Cracker natives who often aid and abet the Shankhill Butchers in their legitimate and non-legitimate business enterprises. Visitors are cautioned against traveling alone by horseless carriage between Cowford and White Sulphur Springs without armed escort. Visitors traveling by train are advised to arm themselves in light of the recent Train Robbery by persons unknown.
Relevant Events: White Sulphur Springs Train Robbery.
Related Personas: Shankhill Butchers