Shankhill Butchers Cattle Company, Ltd.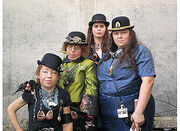 Description: Legitimate business that serves as a front for all the illegal activities of the Shankhill Butchers.
Relevant Events:
Related Personas: Molly Starks or The Boss, Auntie Social, The Enforcer, The Blue Rajah
Relevant Events: Specter Steamweks Raid
Related Personas: VADM Rudolph Beggley.

Steamkini
Description: A two-piece bathing costume originally designed as part of the uniform kit aboard the hot steamy confines of the C.E.V. Matanzas. On a resupply visit in the south of Italy, artisans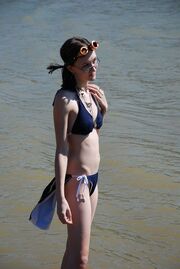 became enamored with the garment and will begin production after copyrights, patents, and trade negotiations are completed. Ironically for a vessel that seeks to explore cultures and scientific frontiers, this is the item that has given the C.E.V. Matanzas its notoriety.
Relevant Events: Became the fashion rage of Europe, most notably The Netherlands, and along the lake shores of Ohio. Also reference the Steamo, and Steamudas men's wear.
Related Personas: Frau Tankgerhausen, Katarina Navanne, B-, S--, Coal Shoveller Seawoman. Spectre SteamWerks.
Steamo
A Steampunk Speedo. Now that you have winced…It is the long legged bicycle styled swimsuit instead of the tiny kind most associated with the style.