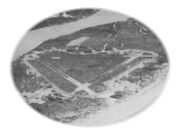 Aerodromes
Description:
Cowford has several Aerodromes to service the various portions of the city:
Naval Aerodrome Jacksonville - as it has access from the air and the water.
Naval Aerodrome Station Mayport - has access to deep water and the air
The Ports of Cowford - is a two part facility one for the Aerodrome and the other for cargo and passenger traffic.
Naval Aerodrome Greencove Springs - this is one of the oldest Aerodromes in Cowford and has Rail / Water and Aerodrome Facilities. This Aerodrome is controlled by the Shankhill Butchers
Cecil Aerodrome - provides Aerodrome and Aether Moon Ship Service via the cannon launching system developed by Prof Von Ahrent with rail connections .

White Church Aerodrome - provides backup Aerodrome Services to both Cecil Aerodrome and the Naval Aerodrome Jacksonville.

Relevant Events:
Related Personas: Prof. Von Ahrent

Air ships :
ABHORRENT (Pirate Airship)
Related Events: Specter Steamwerks Raid
Related Personas:
Dicky Mullen - First Mate
Sonja - Head Winch-man
Rattlesnake (Pirate Airship)
Related Events:
Related Personas:
Luftshiff Barbarossa (German Military Atache)
Related Events:
Related Personas: