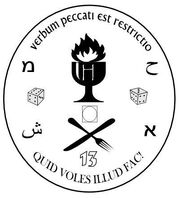 HELLFIRE!
QUID VOLES ILLUD FAC!
MAY IT SCORCH AND SINGE
BURN AND BOIL.
MAY IT SEETHE AND SCALD
COMBUST AND CRACKLE.
UNTIL WE ARE ENFLAMED, ROASTED, TOASTED, GRILLED,
AND CAUTERIZED!
UNTIL OUR BONES CRUMBLE INTO THE DEMONIAC HEAT!
HELLFIRE!

Not much is known about the Cowford Hellfire club other than it is a super exclusive and secret society made up of Cowfords Elite.