Obi-Wan Finale - The Loop
Play Sound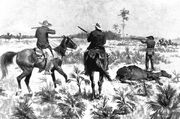 Clark's Ferry is under the authority of the Shankhill Butchers who use the area to graze their mutant yellow hammer cattle.
Clark's Ferry was developed in the early 1800s as a transportation center linking the St. Johns River with the peninsular interior. The area was originally settled in the 1820s as crossing on Black Creek, it became a major military entrepot during the Second Seminole war (1835-1842) with establishment of Ft. Heilman. Served by roads and riverboats, Clark's Ferry thrived on the surrounding timber, citrus, and farm economy, and became the first Clay County seat of government in 1858. During the War of Northern Agression, the 4th Massachusetts Cavalry burned much of the town in 1864. Prosperity returned in the 1870s as river traffic and the citrus industry burgeoned.
Early in 1888, a colorful green meteor appeared in the night sky over Clark's Ferry. A few months later, the mystery meteorite was exhibited at the Sub-Tropical Exposition and then went on display in Cowford. The stone was examined by a Dr. Hahn, who claimed to have found "miniature fossils" of corals, crinoids and shells, "all of them of microscopic size" in the rock. Dr. Hahn photographed these microfossils of extraterrestrial life. Sadly, after Jacksonville's Subtropical Exposition, the meteor was removed and never seen again.
The Butchers consider that the meteorite to be their rightful property and that it was "stolen" by former Mayor Angus Beggley and his cronies. A sizable reward has been offered by the Butchers for information concerning the whereabouts of said meteorite.