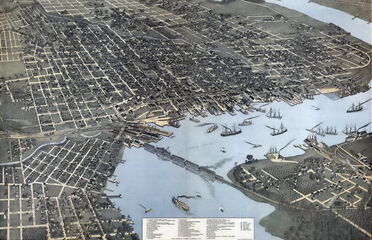 Cowford is a Freeport City located in in the north eastern portion of La-Florida.
Cowford is the largest city in La-Florida in terms of both population and land area, and
the largest city by area in the contiguous North American Continent. It is the county seat of the county, and the consolidation gave Cowford its great size and placed most of its metropolitan population within the city limits; it is the most populous city proper in La - Florida and the Southeast, and the eleventh most populous in the North American Continent.
Cowford is in the First Coast region of northeast La-Florida and is centered on the banks of the St. Johns River, about 25 miles (40 km) south of the Georgia state line and about 340 miles (547 km) north of Miami. The Cowford Beaches communities are along the adjacent Atlantic coast. The area was originally inhabited by the Timucua people, and in 1564 was the site of the French colony of Fort Caroline, one of the earliest European settlements in what is now the continental United States. Under British rule, settlement grew at the narrow point in the river
where cattle crossed, known as Wacca Pilatka to the Seminole and Cowford to the British. A platted town was established there in 1822.
Harbor improvements have made Cowford a major military and civilian deep-water port. Its riverine location facilitates two Navy bases and the Port of Cowford, Florida's third largest seaport.
Trending pages
All items (15)